Finishes
Sagebrush Painting Co. offers finishes in the forms of glazes as well as leaf, stone and wood finishes, which are not only installed to last but also lend any room an unmistakable elegance and visual appeal.
---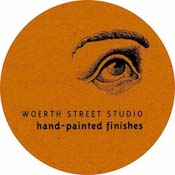 Specialty finishes are done by Monica Gotz of Woerth Street Studio.
---
Glaze Finishes
Glaze finishes are the ideal choice for giving painting an added look of depth and texture. We provide expert glaze finishes with an unrivaled artistry and unmistakable style.
---
Leaf Finishes
Nothing is richer than a finely applied metallic leaf finish. Sagebrush Painting Co. offers a range of leaf finishes from shining gold and silver to stately copper and variegated leaf.
---
Stone Finishes
Stone finishes not only give a room an atmosphere of sturdiness and nobility, but they also can be customized to match any color palette. We offer a variety of marble, onyx and other unique options for stone finishes.
---
Wood Finishes
From Brazilian rosewood to light maple, Sagebrush Painting Co. provides a number of wood finishes that complement any color scheme or interior decor.
---